The Bread of Life
As most of you know, I'm a convert to Roman Catholicism. Receiving Jesus Christ in the Eucharist really is the high point of my week. Today at Mass, I had a little epiphany.
If you are interested, click the 'read more'. If not, that's ok, we'll be returning to our regularly scheduled rants in just a bit!


So anyway, for the past few months, the wine that St. Michael's uses that becomes the Blood of Christ has been a white wine. I have no problem with that, it's just that the taste was light and a bit sweet. Today, I noticed when the family brought up the gifts, that we were back to a red wine. I was unprepared though, for the sharp, almost bitter taste, and the slight burning sensation as I swallowed. As I got back to my seat, it hit me.

Sometimes, when we receive Jesus, it's a light, sweet and wonderful experience. Other times, by necessity, receiving Jesus is almost medicinal in it's nature.

Isn't that true though in the other ways we meet Jesus. Sometimes it's on those 'mountaintop' experiences, full of joy and light and love. Other times though, Jesus brings us the healing we so very much need. Those times, we may not like it, we may not even want it in our darkness and despair, and it can seem bitter and strong, but at the same time it's warm and calming.

Those thoughts carried me through the rest of Mass, and are making me more mindful of the varied ways God works in my life. Especially those ways that I might not appreciate on the surface.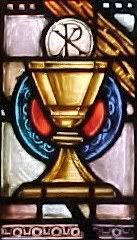 Tags-Eucharist